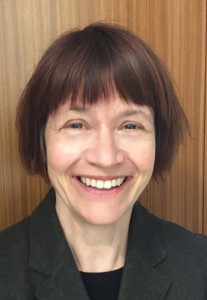 Patricia is Eugene Lang Research Professor of Film and Media Studies at Swarthmore College (website, Facebook page). Patricia is an interdisciplinary scholar, teacher, and advocate for feminist film.
Patricia's latest book Women's Cinema, World Cinema (Duke UP, 2015) explores the dynamic intersection of feminism and film in the twenty-first century, highlighting a new generation of women directors from around the world.
She is the co-author of The Film Experience with Timothy Corrigan (Bedford St. Martin's, 5th edition forthcoming), the widely used introductory film studies textbook, now including an innovative new digital media program. Her book Univited: Classical Hollywood Cinema and Lesbian Representability (Indiana UP, 1999) has been widely cited in LGBTQ film and media studies. Her edited books include Critical Visions in Film Theory: Classic and Contemporary Readings (co-edited with Timothy Corrigan and Meta Mezaj, Bedford St. Martin's, 2011), and Teresa de Lauretis's Figures of Resistance: Essays in Feminist Theory (Illinois UP, 2007).
For the past two decades, Patricia has been actively involved in independent feminist and LGBTQ media distribution and exhibition through service with nonprofits, film festivals, and cultural journals including the feminist film organization Women Make Movies, the feminist film journal Camera Obscura, and the New York International Festival of Lesbian and Gay Film. She is passionate about fostering and publicizing feminist and LGBTQ media arts, particularly in transnational and multicultural collaborations.
Patricia received her PhD in the History of Consciousness from the University of California, Santa Cruz and her BA in Film Studies from Yale.
She lives in Philadelphia, PA.
Patricia is available to speak on gender and sexuality in classical Hollywood, independent, and world cinema; women and popular culture; queer theory and queer media; and experimental and documentary film.
CONTACT
Email: pwhite1@swarthmore.edu
Phone: (610) 328-8148
Mailing Address:
Swarthmore College
Film and Media Studies
Swarthmore, PA 19081